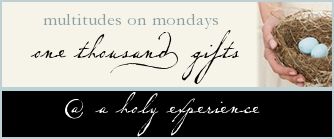 How do I explain what has gone on in my life in the last two weeks? My head is stirring with so many different thoughts and as I try to type it all out it becomes jumbled and confusing. I have a hard time trying to understand what I am trying to say. I type, then delete. I type and delete again. The process continues for 45 minutes. Finally, I decide just to list my blessings. God has done so much to me this past week words cannot express what has occurred. One thing I can say is I choose happiness.
736. The excitement and happiness in my son when it is daddy/son day
737. My husband choosing daddy/son day rather than taking on an extra shift at work
738. My relationship with my daughter
739. My relationship with my son
741. The closeness of the four of us
742. The many text messages of scriptures from a friend when I was in a "battle"
744. God sending me an encouraging card when I was in a day of battle
My words may be jumbled but the blessings He has sent me are clear….