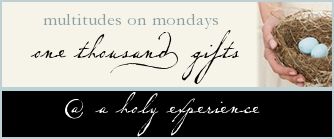 Days occur where it is hard to find the blessings. Weeks occur where it is hard to find the blessings. Struggles keep arising. You wonder when they will stop. Your faith is beginning to fade and the enemy is whispering in your ear. You enter into a battle. A battle of holding on and waiting. Waiting on Him. Waiting on His works.
You cry out telling Him you know He is there and working behind the scenes but could He please show you something? Anything? Lord, send a scripture, an encouraging word, or send a friend with some type of word from You. Anything Lord.
You begin to wonder what you have done. You fall on your knees asking Him to show you what areas you need to fix. Have I spoke wrong of someone? Was I disrespectful to my husband or children? Does my attitude need adjusting? You call to Him to show you.
Slowly He is revealing His blessings to you. Each blessing He reveals to you, He waits to reveal the next. He wants you to feel the blessing within your heart. Each blessing softens you. Each blessing brings peace. Each blessing lifts the burdens. Each blessing brings tears down your cheeks.
You have allowed the enemy's burdens to overtake His blessings. The blessings He has given to you. The blessings are meant for only you. His Love. His Grace. His Mercy. His blessings. All for you.
No words are spoken from you. Just humility.
"The grace of our Lord was poured out on me abundantly, along with the faith and love that are in Christ Jesus." 1 Timothy 1:14
726. The blessing that arrived in the mail
727. A thank you card from a brother in Christ
728. The kind words left on my Facebook wall from a friend who means the world to me
729. The tight and welcoming hug from a sister in Christ
730. Coffee time with a friend
731. Hubby's part-time job
732. Coffee and His Word first thing in the morning
733. Memories of my nephew
735. Military retirement pay
The blessings are there….