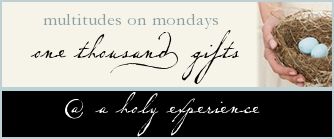 "So do not worry, saying, 'What shall we eat?' or 'What shall we drink?' or 'What shall we wear?' "But seek first his kingdom and his righteousness, and all these things will be given to you as well." Matthew 6:31, 33
Friday morning the blessings and I took a field trip to a pottery store for art class. The blessings are busy painting their masterpieces, so I text my husband.

He has a job interview that afternoon

. I text him telling him I feel different about this interview and I do not know if it is from the Spirit or my flesh. I hit send.
Instantly after I sent that text I had a rush of tingling throughout my body. The tingling ran through my legs. My sign from Him. I knew it was from Him. He always causes my legs to tingle when He asks me to do something I normally would not do. I text my husband back. The feeling is from the Spirit.
I was in constant prayer that morning. God knew our situation. He knew my heart. I did not want to worry about anything. Down to one paycheck? Okay I trust Him. No job? Okay I trust Him. I have found that trust is a key when we have a relationship with Him. If we do not trust, how can we have a strong relationship with Him?
The blessings and I head back home but they ask to go to the Boys and Girls Club. I agree to take them. I arrive home and notice that I am alone. Nothing but silence. I take it in then I head outside to our back patio. My classes have opened for my next session and I decide to look them over. I try to focus but all I can do is praise Him. I am praying. Singing praises. Praying more. I tell God that no matter the outcome I will still trust Him.
I look at the time. 3:10.
Hubby should be in his 3pm interview. The phone rings. I hear "Hi babe." I feel my heart beginning to beat rapidly. I try hard to pay attention to the hubby's words. I am waiting for the words "babe I got the job!"
We hang up with no such words being said in our conversation just the usual, "they will call us with a decision."
The tears unexpectedly begin to flow down my face. I am not sad. I am not happy. I just cry. I praise Him. I continue to tell Him that I trust Him. My Jehovah Jirah. My Provider. I trust YOU! Tears continue to flow.
About three minutes after I hung up with the hubby, the phone rings.
My God gave us a miracle. Three minutes ago we were unemployed and our future was unknown to us BUT now we have a job!
My hubby has a job!
658. The weight of the world off our shoulders
659. The look on our children's face when they receive the news
660. Family visiting with us for a night
661. Friends spending all day Saturday with us
662. A dear sister stopping me on Sunday telling me the prayer I said on Wednesday asking for a miracle for the ladies in the room was for her because God gave her a miracle Thursday morning
663. Watching little man light up at football practice
664. Football season beginning
665. Hubby's new job
My Jehovah Jirah has shown me His works....