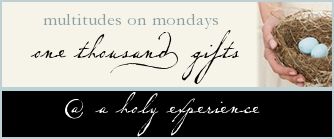 We had such a blessed filled week. I love when I can see Him working in our life's. Sometimes it can be so hard to even know if He is with us, especially during the hard times. The best part is He is always there and He tells us that in His Word. Not once but many times.
401. Sticking to our menus.
402. I know that I have said this before but my shopping trips. He has provided us with so much by spending so little.
403. My coupons.
404. Hubby putting daughter's art desk together.
405. The snow that has finally fallen.
406. Now feeling like CHRISTmas.
407. A shoveled driveway.
408. The countdown until my mommy (yes I still call her that :) and stepdad arrive.
409. A great week of homeschooling.
410. Our church family is a huge blessing to us.
What has God blessed you with this week?