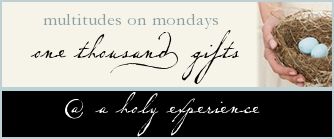 This past week God has shown me so much and I have so much to be thankful for. God knows what our future holds and the changes that are approaching. He has set so many people in my path to help me with these changes. A lot has gone on last week but I saw so many blessings that my heart is full with joy and love.
61. My son announcing that he wants to give his own money to the man standing on the corner holding the sign. (proud momma moment).
62. My children practicing the Fruits of the Spirit.
63. My church family. They have surrounded us with love, encouragement and support for our family during this time of change.
64. Daddy/Daughter dances.
65. Spending time with a good friend while our daughters and husbands are at the daddy/daughter dance.
66. CHRISTmas on ice in North Pole.
67. My baby brother who has step forward to serve our country. He starts his training as a Marine today. (proud sister moment).
68. Homeschooling my two blessings.
69. Spending time with my daughter.
70. My husband.
I am looking forward to what God has in store for me this week. How about you?