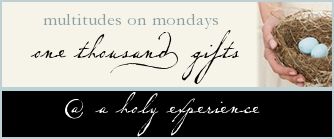 Although I have not done a post about my blessings, my 1,000 gifts, in over a month does not mean I have not received any blessings. God has surrounded me with blessings. Each time I turn around a blessing has occurred. We all receive blessings every day. Some may be harder to find, but we receive them. Our days may seem dark but there is light within the darkness. We just have to find the light.
As humans we tend to focus more on the bad things or the darkness rather than the good or the light. An obstacle comes our way and it feels that we are knocked down and defeated. All we see is the fall and not us getting back up. We begin the "woe is me" instead of "okay I am stronger than this how can I fight this battle?" We are strong no matter what we are faced. Sometimes we do not feel that way but we are. We are especially strong if we have Him fighting our battles. He is our light. He is the one who will lift us up when we are knocked down. He is the one who can take the darkness away. He is the one who strengthens us when we are weak. Some of you have not accepted Him in your life as your Savior yet, or may not turn to Him when you are knocked down. Just know He is there. Waiting for you. Waiting for you to call Him into your darkness. He is waiting to be your Light.
Will you accept His help?
776. CHRISTmas with family
779. Dinner with a couple filled with the Spirit
781. God putting a friend on my heart when she needed help the most
782. God reminding me things take time; no need to rush
783. Hubby not seriously injuring himself when he fell over the weekend
784. My Wednesday night ladies church group
No matter how dark your life may seem there is a Light waiting for you…..