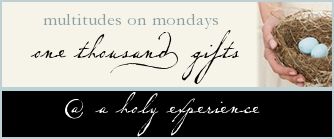 I stand in church with my family and sing the songs our worship team is leading. I bow my head and take in the words being said. I listen to the voices. The sounds of my church family surrounding me and worshipping Him. Sometimes if I listen really hard I can hear the little children lifting up their angel like voices. At that very moment all is well. All my stress and fears are gone. I feel the peace wrapping around me.
Oh to always feel this peace?
The last few months have brought stress but He reminds just how much bigger He is. My problems and stress are nothing He cannot handle. The voices praising Him remind me that each of us is suffering from something. As we lift our hands symbolizing our love and surrendering ourselves to Him, He reaches out to each of us. Gently touching our fingertips telling us He is with us.
My thoughts wander back to the days before I lived for Him. Oh how broken, angry, and sad I once was. I remember all that He has done for me. All that He has done for my loved ones. As it seems that each day adds a new stress or struggle, I remind myself of the voices of worship and the peace it brings. I remind myself that no love is greater than His.
706. The singing voices of those praising Him
707. Dinner with good friends
711. Long phone conversations with a friend
712. My scholarship; even though I complain about going back to school
713. My spiritual mother embracing me with encouraging words
714. My little man's imagination
715. My daughter's love for Christ
Oh Lord, thank you for these blessings…..