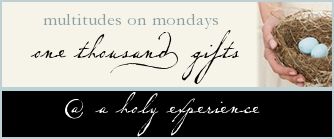 I have strayed from Him many times but He is always there waiting for me with open arms. I allow the enemy to get a foothold on me, which eventually causes me to stray. Most of the time I know what I am doing but I make excuses on why I behaved the way I did. We all struggle. We all make excuses. He continues to embrace us with our faults and His love is unending.
For the past few weeks I have allowed the enemy to get a foothold on me. The enemy has caused me to trip. I was not reading His Word every day. I was not praying as often as I should have been. I turned my cheek from Him when He was reaching for me. I kept asking myself "how did this to happen?" My answer: I was not putting Him first. I was trying to take on the world and my situations on my own.
I became angry, frustrated, moody, and was having a pity party for myself.

I was worried and fearful about the hubby not finding a job. I was worried and fearful that if he did not find a job we could not pay our bills. I was listening to the lies that the enemy was whispering in my ear.
Last week I began to fight back. I turned to Him repenting of my sins and praying for His help. I was on my knees because this battle was too much for me to handle. I needed Him to lead me. I needed Him to take on my battles. I began reading His Word first thing in the morning as I once did. I prayed throughout the day as I once did. I spoke to Him as I once did. I still heard the enemy whispering but I was more equipped to battle him because my Jehovah was with me.
I began feeling my heart to soften. God was whispering to me not to fear and that He will take my worries away. He placed within me hope, faith, and love. No we do not know the plans He has for us. He may not place my husband in a career making as much money as we do now. He may call my husband into an entirely different career field. My husband may not receive a job right away. Either way my husband and I have faith in our God. I know that God will provide for us as He always does and in the end we will continue to praise Him.
618. The peace I am feeling
619. Faith that His plans are for good
620. Him showing the hubby and me where we are lacking as parents
621. A dear friend who encourages me and offers godly advice
622. A young boy singing and dancing his heart out while praising God in worship and not caring who hears or sees him
623. Teenagers spreading The Word
624. Blogs that I read that offer encouragement
No matter your struggles you are not alone because He is with you….