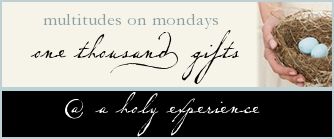 Last week we had nothing but cold temperatures and rain. I could not motivate myself to really get anything done.

All I wanted to do was lounge around in comfortable clothes and have no agenda. So that is what we did. We did nothing last week. We took the time to be still and rest. I believe the two blessings needed it more than I or so I will think that. Our life will soon become chaotic and I wanted to have some days where we could enjoy the quietness of our home.
The month of May we are busy and it will take me having to focus on Him to keep me sane. Tomorrow marks exactly 31 days from my husband's retirement ceremony. We have family arriving here from Minnesota and Indiana. We will need to be prepping our home for their arrivals.
Within the next two weeks one of my sister's and her husband will be expecting the newest blessing to their family. I cannot wait for that day. Now that we live closer we are able to celebrate with our family the newest addition to our family. Last November I was able to be at the hospital shortly after my niece was born and I pray I can make this one on time.
Lately, my family has felt the enemy coming at us. The enemy sees our joy, love, and happiness and he wants to steal that from us. We could allow him too. However, we have two choices in life: to allow it or not allow it. Our family chose not to allow it. We strapped on our Armor of God, while He fought the enemy for us. Even though we took the week to rest the enemy still tried to get us, but we chose to stand by our God and because of that we received many blessings this week.
567. A day of snuggling on the couch as we had a Narnia marathon
568. 32 days until hubby's retirement ceremony
569. God keeping me focused on my clean eating
570. My classes are almost done (1 more week)
571. Beautiful weather over the weekend
572. Watching hubby healing more and more each day
574. My two blessings making new friends
575. Becoming members of our church
I will keep my eyes fixed on Him……