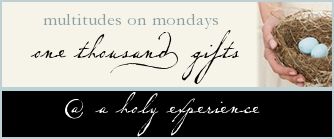 Honestly, this past week has been a struggle. However, the struggles we faced did not interrupt my life. I know that may sound like contradictory, but we kept going regardless of what we faced. This week has drawn me closer to Him. This past week I had gotten to a point where I told God, "God I NEED a miracle from You." He showed me His work. He gave us a miracle. I was ugly crying when I got off the phone. You know the cry where your doing that deep trying to catch your breath sighs and snot coming out the nose cry? Yes, that is what I was doing. When my husband walked in the door poor guy did not know what to say, think, or do. He is so good! I am ready for this new week and what He has planned for us.
432. In school full-time=no student loans are due. This is a HUGE blessing for us!
433. Waking early and reading His Word
434. The selling of our items on Craigslist
435. Starting school again
436. The lazy days we had
437. Creating a favicon for my blog
438. Fixing the hiccup my computer was experiencing. I am not computer savvy.
439. God sending the songs I need on the radio at the right time
440. Watching my two blessings play in the snow
441. Watching my two blessings master the pogo-stick.
**I will be sharing the miracle He sent us in the next few days**