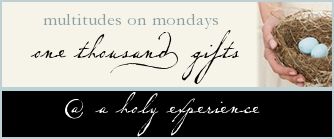 Friday evening my husband delivered some news to me that turned me upside down. He learned of the news Friday while at the doctor's. I guess you could say it wasn't really news but possibilities. Instantly fear took over. The what-ifs began to creep in.
I prayed
. All day Saturday I prayed. The more I prayed the more the fear would set in. I could not hear God. I could not hear what He was telling me. That scared me even more. More fear.
Friday evening I wrote a draft of the feelings I was having and intended on sharing that on the blog this past weekend. For some reason I felt that I was not suppose to share it. On Sunday I
NEEDED
church. I
NEEDED
to hear His word. I knew that whatever the Message was, He was sending it to me. I knew my Heavenly Father would send exactly what I needed to calm my fears.
He did.
Here is the post I wrote on Friday evening (when I was broken):
You pray.
You ask why.
You ask for His strength and wonder why.
You don't understand why nothing can be found.
You see the pain.
You see the hurt and stand by wishing something can be done. His touch is needed.
You pray.
You ask why.
You have a battle within. You can't hear Him. You don't understand why. You don't understand what He wants you to do. You don't know His plan.
You sit in your living room and hear a storm stirring outside. You head to your patio door. You watch the rain and wind rage outside. All you can think of is praising Him during this storm. Praising Him during this difficult time. Praising Him while you wait to hear the news. The news of what your future holds. You know He has only good plans for you, but you do not know what those plans entail.
As you watch outside with the door open, the wind shifts and rain is blown over your face, and you snap back to reality. Reality of what-ifs. Reality of what you feared from the beginning could truly take place.
The reality of being alone.
You pray for His strength.
You pray that He is there to get your through.
You need Him.
Your future is unsure. The storm outside calms. You begin to wonder if the storm inside you is calming. All you can do is wait.
Wait for Tuesday afternoon.
Nothing but fear. As you read you can see the fear I was dealing with. I felt it creeping up and not letting go. I felt I couldn't breathe at times. I needed to hear Him. I needed to feel His arms wrapped around me and telling me it was going to be okay.
Then Sunday the sermon was meant for me. Everything that was said was for me. All I wanted to do was break down and cry. Cry because I finally heard Him. Cry because I knew He would answer. Cry because my faith was not strong enough.
"Hearing this, Jesus said to Jairus, "Don't be afraid; just believe, and she will be healed."
Luke 8:50
That is what I needed. I needed to believe. I cannot believe if my fears are getting in the way. If God could raise Lazarus and Jairus' daughter from death, why couldn't He calm my fears?
I left church as a new being and left the issue there. I left it for God to deal with. I had no fear.
I knew He was with me because His Word says so:
"For I am the Lord, your God, who takes hold of your right hand and says to you, Do not fear: I will help you. Do not be afraid..." Isaiah 41:13-14a
He had my hand the whole time. I could not feel His grip. I am not alone. I have no fear. He is with me and holding my hand.
I will not fear Tuesday afternoon.
286. His Word.
287. His Strength.
288. His Grip.
289. His Love.
290. His Grace.
291. Storms that are sent my way.
292. Overcoming the storms.
293. His Messages.
294. Healing.
295. Calming of fears.