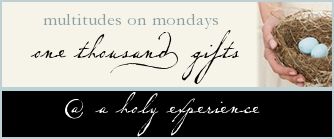 The list continues:
222. The official word that we were moving to Minnesota.
223. Having hubby home for CHRISTmas.
224. Watching the blessings open gifts.
225. Watching my daughter grow in Christ.
226. The movers packing our home.
227. A warm house to protect us from 40 below weather.
228. Card games with my children.
229. A well-groomed Manning (our dog). .He was in desperate need of a grooming
230. Quiet spiritual-filled talks with the hubby.
231. House hunting.
232. Setting new goals for the new year.
234. Flexibility of homeschooling.
235. Warranty on our vehicle.
236. Playing words with friends with hubby, daughter, and sister.
237. Minimal packing for our trip. Moving to Alaska we were overpacked.
238. Finding a good home for our young dog who could not travel with us.
239. Learning from mistakes.
240. Auto-start for our vehicle. A true blessing living in Alaska.
For more Multitude Monday please visit
A Holy Experience
hosted by
Ann Voskamp
.