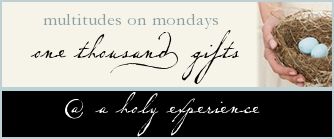 82. My coffee/tea time with Danelle over at
Home Ever After
. We had a wonderful couple of hours talking and catching up. Oh did I mention she will be having a baby any day now? Congratulations my friend!
83. Hubby's day off, today.
84. My son won second place in his Cub Scouts Pinewood Derby. I will be posting about it this week and will give you my thoughts on how he won.
85. Again, my church family. I am making some wonderful friendships, and as a military family it can be difficult to find a great church.
86. Happy that Kaitlyn and I did not catch the tummy bug that the hubs and son caught.
87. Forgiveness, mercy, and grace all given to me from my Father.
88. The ability to fly home three times this year.
89. Conversations with family and being lifted up with their biblical guidance. Thank you!
90. My life.