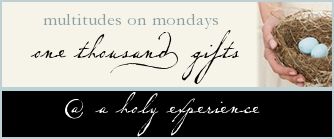 It has been a month since I have wrote down my blessings and I have so many to be thankful for.
51. Celebrating Christmas Day with my hubby and children. This time next year, hubby will be overseas fighting for our freedom, so this year was very special.
52. The warm weather embracing Alaska.
53. Date nights with the hubby.
54. Playing board games with the blessings.
55. Shadow. Our new member of the family. He was given to us from a dear friend of ours who needed to place him in a new home.
56. Ringing in the New Year with a dear couple who have blessed our life.
57. Watching my children open their CHRISTmas presents and being overjoyed with their gifts and not upset for what they did not get.
58. Having the last two weeks to spend with my family. No school for the blessings or myself, and quality time with the family.
59. Being Mom of the Year (or so my blessings tell me). Ice cream for breakfast and a fort in the living room that stays for days; a child's dream!
60. Being able to visit with dear friends who have blessed my life in so many ways.