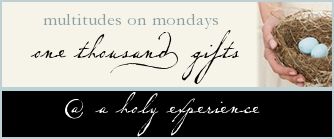 Last week seemed to go by slow even though we were busy and trust me I was fine with that. I knew this week would be a little hectic with my school back in session, hubby out-processing from the Army, homeschooling, and the blessings extracurricular activities. I enjoyed last week and felt the blessings pouring down upon us.
606. Lunch with friends who are about to move
608. My friend's daughter is doing well after passing out for a few minutes
609. All the family time we spent together
610. God reminding me He is with us as we transition to civilian life
612. Hubby's shoulder is healing
613. God allowing me to be there for my daughter when she needs me
614. My relationship with my daughter
615. Hubby making me laugh
What were you blessed with this week?