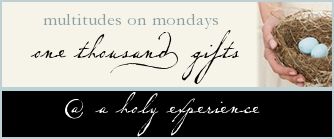 This week has been somewhat stressful. I have tried to focus on the blessings that God has given me.
"Rejoice always, pray continually, give thanks in all circumstances; for this is God's will for you in Christ Jesus." 1 Thessalonians 5:16-18
I am being honest when I say it has been difficult to rejoice but I am trusting in Him and stepping out in faith. He continues to show me that I am not alone and is with me. Here is what He has shown me this past week:
391. Our pastor is doing a series on debt. We really need to hear this.
392. Lounging all day Saturday watching CHRISTmas movies with the family.
393. My $2 shop at Target last week.
394. Him guiding me when I coupon and showing me what is a good deal for my family.
395. Phone call from a close friend.
396. Food in our fridge and pantry.
397. The re-building of our stockpile.
398. Celebrating my daughter's 12th birthday this week.
399. Getting back to our routine in school and home.
400. Hearing my daughter say she has the best teacher.