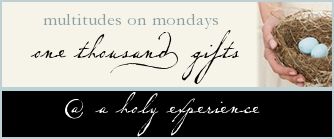 This past week has been a little difficult for me. I needed to step back and really put myself at His feet. I felt the enemy really working his way in. My heart began to fill with bitter, anger, and hurt. I was bitter to those who have hurt me. Angry at myself for being bitter, and hurt that I took my eyes off of Him. All week I put my focus on my family, the kids' school, and prayer. Throughout the week God started showing me what I needed to do. Just like He always does. I am happy to say that my heart is full and happy. I just love how He grips on and never lets go.
181. The Titus 2 women in my life.
183. Spiritual parenting seminar that we attended on Friday.
184. Quiet talks with close friends.
185. Friends who listen, offer support, and godly advice.
186. Friends who pray for you.
187. A 7-year-old child from our church praying for my husband, always.
188. Passing a class that I did not think I would pass.
189. In my last two classes for my associates degree.
190. My son sneaking his little hand in mine.
191. How my daughter still wants to be my "shadow."
192. God sending confirmation.
193. His mercy and grace.
194. Finishing the book
The Shack.
195. My daughter acting silly.
196. My Manning (our dog), and his personality. He always makes me laugh.
197. Friends who know you are struggling, turn towards you and pray with you rather than walking away.
198. No caffeine for two weeks.
199. Paying off two credit cards within two weeks of each other.
200. Receiving our first PFD (Permanent Fund Dividend) from Alaska.
What are your blessings this week?