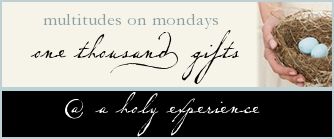 Last November I started making a list of 1,000 gifts that is hosted by
Ann Voskamp
. I
started my list
but never finished and stopped blogging about them in April. Even though I stopped blogging I never stopped looking for the blessings. I never wrote down the blessings (although I wished I had), I knew they were there. So it is now time to continue on to my list.
To return to the blessings.
141. Spending five weeks back home in Minnesota.
142. The mending of a father/daughter relationship.
143. Late night talks with my dad while we were home.
144. Watching my blessings play and create memories with their cousins.
145. Attending my sister's wedding.
146. Meeting my 18 month-old nephew for the first time.
147. Watching my blessings create memories with their grandparents, aunts, and uncles.
148. My sister and new brother-in-law not forgetting about my husband even on her wedding day.
149. Bonding time with my siblings.
150. The strong hug given to me by my niece each time she saw me.
151. Spending long hours at the local park fellowshipping with my neighbor while our children play.
152. Pizza night every Friday.
153. Mexican night on Sundays.
154. The conviction God places on my heart when I do wrong.
155. Hearing my daughter say that she has strayed but God has brought His lost sheep home.
156. Watching my daughter reach a new level with her walk with Christ.
157. Hearing my son wanting to say a blessing for
my best friend in Maryland

.
158. My husband home from Afghanistan.
159. Feeling my husband's arms wrapped around me.
160. Washing my hubby's clothes.
161. The beautiful colors surrounding us as Autumn enters Alaska.
162. Our new homeschool curriculum.
163. My husband's new unit.
164. Hearing my husband's voice in our four walls.
165. The doctor's who are helping my husband.
166. The fullness of my husband's side of the bed that once was empty.
167. Neighbors from past and present who become part of your family for life.
168. Hearing my son say that his hero is his daddy.
169. The innocence of children.
170. Our family is now together again.