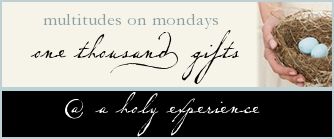 The past week has been very busy because my husband has had many doctor's appointments. Right now I cannot tell you if I am coming or going, but with God's help and His strength we are carrying on. Even though we are facing a challenge. we are seeing blessings all around us. Tomorrow (today as you all read this) we have another appointment, but this one is a big one, so if you could please lift us up in prayer, we would be greatly blessed.
171. My husband's tests are coming back good.
172. The medical team that are helping my husband.
173. Hearing my son say "when dad came home from Afghanistan; that was the best day of my life."
174. Watching my son be his daddy's shadow.
175. My faith community.
176. Talking with my mom.
177. Telephone call from my dad and stepmom.
178. The Titus 2 woman in my life.
179. My friends who are helping and standing with us during this time of our life.
180. Reaching the two year mark anniversary of being in Alaska.
What blessings are you thanking God for this week?