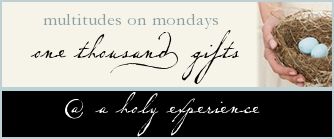 When I first started counting my blessings I would come sit down in front of the computer and try and think of the blessings that God sent me that week. I would have some that stood out and some that I had to think really hard about.
I felt so selfish.
God sends us blessings everyday. Some are obvious and some we really have to look for. Blessings come in even the hardest times. We just have to open our eyes and our hearts.
Last week I started reading
Ann Voskamp's
"One Thousand Gifts"
and was quickly realizing what I was doing wrong. I am not suppose to sit in front of the computer and try and remember. I am to write it down as soon as it happens. As soon as I started writing the blessings down immediately, the more my heart was feeling with thankfulness. I was so caught up with my ownself that I was not taking the time to see what God wanted me to see.
261. The delivery of our household items.
262. The maintainance men who have blessed us with the little projects that keep arising.
263. The inivation to a Sunday lunch.
264. The conversations of new friends at Sunday lunch.
265. A free laundromat when the washer is broken.
266. A fixed washing machine.
267. An unpacked home.
268. Watching the two blessings bond closer each day.
269. 13 years later and the hubby still makes me laugh. Hard. With tears.
270. No internet.
271. No cable.
272. No phone.
273. No distrations.
274. Amish countryside.
275. My college diploma arriving in the mail..
276. New puppy, Samson.
277. Our backyard. The openness of a cornfield.
278. The "Mayberry" town we live in.
279. Our new church
280. Hearing the hubby say how much he loves me.
281. The ability to drive home when a situation arises and I am needed.
282. Looking at the artwork my daughter has drawn.
283. A seperate room for our schoolroom.
284. Praying with my son when he is fearful.
285. Watching my son overcome his fear after we pray.
I cannot wait to see the blessings God brings us this week.