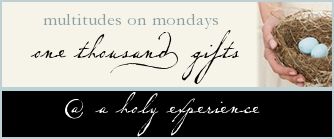 This past week could have been a little more difficult to find the blessings because the hubby is gone and the kids had strep throat. However, no matter the struggles that we were sent, there were still many blessings to be found.
121. Skype
122. Watching my children talk to their daddy with Skype
123. My heart beat faster when my phone is ringing and it is a Skype call from the hubby
124. The ability to see my hubby while he is away
125. Technology
126. God's armor over my hubby
127. My church family who have embraced us and prayed for us during this time
128. Facebook because I would not know what is happening with family and friends
129. Receiving a "thinking of you" card from my cousin; my sister in Christ!
130. A nice washed truck. It only lasts until I pull out of car wash, but a blessing it is for those two seconds
131. Break-up season in Alaska. Spring is on its way!
132. My "date night with Dave" (Dave Ramsey). Last Friday was my first night attending Financial Peace University (FPU) and how eye-opening it was
133. My two blessings healing from strep throat
134. An hour long conversation with my sister
135. Having food in the house and money in the account, just in case there was a government shutdown
136. My last week of my two classes
137. Coffee talks with my fellow military spouses
138. Ladies night at church. We could not attend last week because of illness and I realized how much I love those ladies!
139. My Saturday night Bible group. They truly ROCK!
140. Next day chili