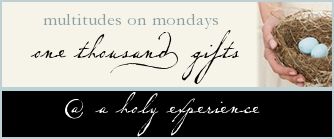 I have had such an unbelievable week that I have not stop praising God. He has done so much for me spiritually and has brought so many wonderful people into my life. I am very excited for this week and cannot wait to see what God has in store for me.
61. My church family. I know I said this last week but they have been such a huge blessing to me and my family.
62. Our Saturday night study group. On Saturday we attended a Bible study group/fellowship with members from our church. It was so refreshing and welcoming that I know where we will be every Saturday night.
63. A new Bible study that I start tonight with two close friends.
Tour of Duty by Sara Horn
is the title of the study and each week Sara hosts the study over at
Wives of Faith
. This study is based for military wives who are facing deployment or will be facing deployment.
64. My Wednesday night women's group. I lead a women's group at our church on the 1st and 3rd Wednesday and one of the ladies mentioned yesterday that she would love for us to meet every week. I have to agree with her; we have so much fun and laughter.
65. Four day weekends.
66. My daughter and her new blog. I love hearing the new ideas she wants to write about. Please stop by and visit her over at
A Child in God's Army
.
67. My Salvation
68. My hubby and all that he does for our family.
69. Watching my hubby be a daddy with our two blessings.
70. Dinner with a family from our church. We had a great time in their home and the fellowship.
God has just poured down so many blessings for us this week that I am overwhelmed with emotions.